Press Release
NYCEDC Announces LifeSci NYC Internship Program Achieves Milestone with Over 675 Student Placements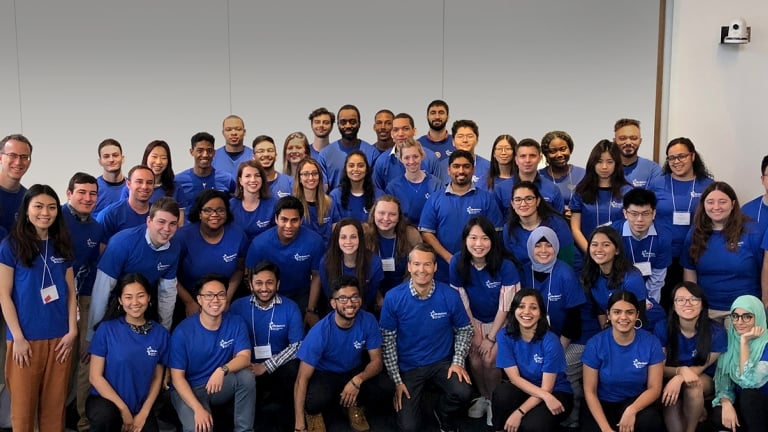 The LifeSci NYC Internship is the City's Innovative Paid Internship Program to Develop the Next Generation of Life Sciences Leaders
The Program is Part of the City's $1 Billion Initiative to Create Jobs and Establish New York City as a Global Leader in Life Sciences
NEW YORK, NY—Today, New York City Economic Development Corporation (NYCEDC) announced its LifeSci NYC Internship Program, which continues to help build an equitable talent pipeline for a rapidly growing life sciences industry, has placed over 675 students at 175 partner companies. The program provides quality internships for undergraduate and graduate students, while providing host companies with diverse talent and support across scientific and business functions.
The LifeSci NYC Internship Program is supported by LifeSci NYC, a $1 billion initiative overseen by NYCEDC to create 40,000 jobs over the next 10 to 15 years. The goal of the program is to prepare students from diverse backgrounds for good-paying jobs in the life sciences' field and accelerate the growth of the industry as outlined in Mayor Eric Adams' Blueprint for Economic Recovery.
"Since its creation, the LifeSci NYC Internship Program has been pivotal in paving the way for the next generation of diverse leaders in this rapidly growing industry throughout the five boroughs," said NYCEDC President and CEO Andrew Kimball. "This monumental milestone highlights the importance of creating career pathways for New York students into these high-wage, high-growth sectors, and we are excited to continue working alongside our partners in shaping a vibrant, inclusive, and globally competitive economy for all New Yorkers."
"I congratulate NYCEDC for the great success of the LifeSci NYC Internship Program. I have been a long-time advocate for the importance of internships as a vital part of helping students transition into their careers. I have closely watched and supported the LifeSci NYC Internship Program since it started in 2018 and have seen the important role it fills for New York City's science students and its growing life sciences industry. I look forward to the program's continued success," said Council Member Gale Brewer.
"I am excited to welcome and congratulate NYCEDC's newest LifeSci intern cohort who are joining 600+ LifeSci NYC Intern Alumni, who are paving the way to make New York City the leading life sciences market in the nation! Internship programs like this not only help expand our workforce and strengthen our economies, they provide each individual intern with an opportunity to create and maintain a sustainable career they enjoy. Thank you to Mayor Adams and the NYCEDC for your initiative in creating workforce pipelines like this that help connect our future leaders to good paying jobs," said Council Member Amanda Farías.
"The LifeSci NYC Internship Program has enabled us to optimize operations by performing the heavy lift of curating talent that complemented our existing team. Overall, the experience was deeply rewarding for our community, team, and interns. With the help of our interns, we were able to execute projects that were significantly delayed or not otherwise possible. These projects allowed the entire team to improve our value and operations, benefiting all 30+ companies at our incubator. Additionally, the resident community and our interns mutually benefited from learning new concepts and generating creative solutions from each other. The program is a great value to the NY life science ecosystem. I am grateful for the opportunity they provide to so many young professionals and early-stage companies," said Director at BioLabs@NYULangone Glennis Mehra.
"The American Museum of Natural History has been working with the LifeSci NYC Internship Program for nearly 6 years through our Science Research Mentoring Consortium. The Museum is the founder and managing partner of 28 research and cultural institutions providing over 500 mentored research experiences for NYC high school students, and we are committed to supporting NYC youth on their STEM pathways. The program complements our program and goals by providing the opportunities for structured and supportive gateways for our alumni to enter industry," said Associate Director; Youth Initiatives, American Museum of Natural History Mark Weckel, PhD.
"The LifeSci NYC Internship Program has been an unparalleled champion of the New York City life sciences industry. Not only does the program provide a breadth and depth of opportunities for students and early career professionals interested in launching a career in and around the life sciences, but their efforts have yielded what is effectively a dynamic roster of all of the most exciting new biotechnology companies in the NYC area — a resource that GRO-Biotech and the New York City chapter of Nucleate have tapped frequently when planning our own entrepreneurial and workforce development programs and initiatives," said Head of Engineering, Mount Sinai BioDesign Joe Borrello.
"The LifeSci NYC Internship Program has been an excellent partner in connecting us with the breadth of untapped talent NYC has to offer. Not only do they bring us great candidates, but they manage the process seamlessly and are constantly looking for ways to improve. They truly care about developing the candidates and imparting lifelong skills and lessons they can use in their internships and careers," said LEXEO Therapeutics Chief of Staff Natalie Sukramani.
"I began my journey as a rising senior in college with a passion for healthcare and sciences yet, I wasn't sure what I wanted to pursue. The LifeSci NYC Internship Program has provided professional guidance, support, and networking opportunities, which exposed me to a variety of roles within the life sciences industry. My internship experiences with LifeSci NYC have allowed me to find my niche within healthcare business and finance," said LifeSci NYC Internship Program Alumna Binta Sumbundu.
The program provides quality internships for undergraduate and graduate students, while offering curriculum and training support with refined "hard" skills in the sciences and "soft" skills of professional and personal development.
There is tremendous demand for internships. In the 2023 cycle, for the third straight year, over 2,000 college and graduate students have applied for the program seeking summer or academic-year internship opportunities. Students have been placed at pharmaceutical and biotech companies, digital health companies, research organizations, and various startups. To date, nearly 50 percent of internships have been extended or expanded into offers of employment for college or graduate students.
With the development of new talent will come new research, translating to more companies, jobs, medicines, and advanced technologies, which will ensure New York City remains the leader in developing treatments and cures for some of the most pressing public health challenges of the time.
New York City is cementing itself as a global leader in Life Sciences. Through LifeSci NYC, a $1 billion initiative overseen by NYCEDC, NYC is on track to create 1,000 companies and 40,000 jobs, unlock 10 million square feet of wet- and dry-lab real estate and generate $82 billion in overall economic impact over the next 10 to 15 years, making New York City a global leader in life sciences.
In October 2022, Mayor Eric Adams and Governor Kathy Hochul unveiled plans for the Science Park and Research Campus (SPARC) Kips Bay, a job and education innovation hub that will be the first-of-its-kind in the state. Driven by an historic investment from the city and state, SPARC Kips Bay will help New York City become a global leader in creating and attracting accessible jobs in life sciences, health care, and public health by creating a pipeline from local public schools to careers in these growing and essential fields.
New York City has a deep and diverse talent pool with 7,000 graduate students and postdocs; over 500,000 healthcare workers; and the world's highest concentration of Nobel laureates, spanning fields from chemistry to physics to medicine.
The city also has premier academic and medical institutions, including nine academic medical centers; one of the most extensive healthcare systems in the nation, with over 50 hospitals and 370 federally qualified healthcare centers; and 100 disease-specialty foundations driving advocacy for patients.
About NYCEDC  
New York City Economic Development Corporation is a mission-driven, nonprofit organization that works for a vibrant, inclusive, and globally competitive economy for all New Yorkers. We take a comprehensive approach, through four main strategies: strengthen confidence in NYC as a great place to do business; grow innovative sectors with a focus on equity, build neighborhoods as places to live, learn, work, and play; and deliver sustainable infrastructure for communities and the city's future economy. To learn more about what we do, visit us on Facebook, Twitter, LinkedIn, and Instagram.