Press Release
NYCEDC Announces Expansion of BioBus into Additional NYC Public School Districts Throughout the Bronx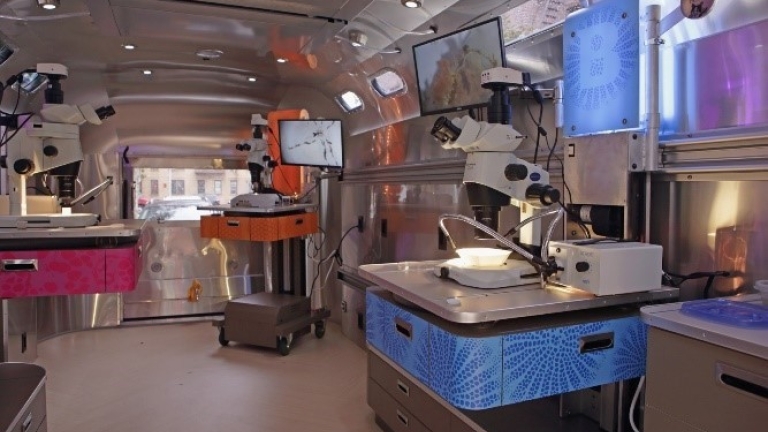 The Program Introduces NYC Public School Students in Historically Underserved Areas to STEM Education and Training Which Strengthens the Life Sciences Workforce Pipeline
The Mobile Lab will Receive $700,000 of City Funding Over the Next Three Years
NEW YORK, NY—Today, New York City Economic Development Corporation (NYCEDC) President and CEO Andrew Kimball, alongside elected officials announced BioBus, Inc. is expanding its proven hands-on education and training into additional underrepresented communities throughout the Bronx. BioBus, a nonprofit organization, known for its two state-of-the-art Mobile Labs, provides students of all ages with free educational programming and training to prepare for careers in science, technology, engineering, and mathematics (STEM). 
The state-of-the-art mobile lab will grow and develop new partnerships with schools in NYC Public School Districts 8, 9, and 10, encompassing neighborhoods from Morris Park to Hunts Point. The program will receive $700,000 over three years and deliver STEM education and training to over 12,700 students in the Bronx during that time period.
The expansion is part of Mayor Adams' $1 billion investment in the life sciences industry and funded in collaboration with Deerfield Management. 
"I could not be more thrilled that our Administration is building on the success of the BioBus program and investing in its expansion over the next three years. New York City is the global center for Life Sciences innovation, business and discovery, and one of the drivers of the industry's continued success will be the incredible students in our public school system. This project will make careers in STEM more accessible to young people across New York City and especially in the Bronx," said Deputy Mayor for Economic and Workforce Development Maria Torres-Springer.  
"Programs like BioBus, which provide students an opportunity to explore the world around them through a lens of science, are essential to inspiring and preparing them to pursue careers in science, technology, engineering and mathematics later in life. We are thrilled to partner with BioBus to serve more children in the Bronx and achieve a mutual goal of providing a diverse range of students with quality, experiential STEM programming," said NYCEDC President and CEO Andrew Kimball. "EDC is dedicated to growing the life sciences industry equitably, so all New Yorkers can take advantage of the opportunities it provides. We look forward to continuing to work with our partners to build a brighter and more inclusive future." 
"We know that STEM education, particularly hands-on, immersive programs like BioBus, play a critical role in preparing our students for the opportunities and challenges ahead. We are thrilled to celebrate EDC's investment in BioBus student programming, which provides invaluable experiences and sparks curiosity in young minds, inspiring the next generation of scientists, researchers, and innovators," said NYC Public Schools Chancellor David C. Banks. 
"Today's announcement is not just an investment in BioBus but in our children and families across the borough," said Bronx Borough President Vanessa L. Gibson. "As a City Council Member, I was a huge supporter of BioBus because if its potential to empower and uplift our students by giving them a hands-on experience to conduct experiments, problem-solve and engage with the STEM field in an accessible and engaging way. By providing this experience to historically underserved students, we are potentially unlocking an interest in STEM for youth who will go on to pursue a career in life sciences. BioBus is leveling the playing field and ensuring our youth have access and opportunities afforded to children and families in more affluent neighborhoods. I want to thank NYCEDC for their investment of $700,000 for BioBus to expand their network and I look forward to working with them, the BioBus staff, and the DOE teams in Districts 8, 9, and 10."
"Our students are the future of our City and it is essential we provide them with the tools they need to foster their own innovation and discovery. BioBus is accessible, educational, and helps to foster a long-term interest in STEM. As a Bronx Council Member, I have had the pleasure of seeing BioBus in action through my discretionary funding in my local budget and experienced first hand how engaged our students are during the lessons. I could not be more excited that Mayor Adams and NYCEDC are expanding BioBus to serve more of our amazing Bronx students," said Councilmember and Chair of Committee on Economic Development Amanda Farías.  
"One of the most important things we can do for our students is ensure that we expose them to all possible career paths in preparation for their future. This investment by EDC provides an opportunity for our Bronx students to understand what it means to pursue a career in STEM," said Deputy Speaker Diana Ayala. 
"Since coming to our City a few years ago, the BioBus program has provided tens of thousands of students with innovative and engaging educational opportunities designed to broaden their knowledge of STEM fields. Today's expansion of this invaluable program here in the Bronx made possible through funding from the NYC Economic Development Corporation is a testament to the importance of ensuring BioBus continues to educate our students for years to come," said Assemblymember John Zaccaro, Jr. 
"This collaboration allows BioBus to strengthen our commitment to the students of the Bronx, expanding our pathway from the first science exploration to the future critical thinkers and professional scientists. We are showing students that they can do science. Support from EDC to expand BioBus shows the students of the Bronx that they belong in science," said BioBus Chief Scientific Officer Latasha Wright, PhD. 
"I grew up in the Bronx with two older siblings and parents who came over from Ghana, West Africa. My parents have always instilled in me the act of perseverance, the importance of education, and giving back to the community. Increasing access to science, especially in underprivileged neighborhoods, will allow kids who have a drive for science to cultivate their passion and strive to make the world a better place," said BioBus and LifeSci NYC Internship Alumnus Vanessa Akwada. 
"Studying life science gives our students the foundational knowledge and ways to examine the world and life around us. Programs like BioBus will give our students rich experiences to expand their minds and tap into their brilliance," said NYC Community School District 7 Superintendent Dr. Roberto Padilla. 
"As the organization co-leading and stewarding the development and launch of a Green Economy Network in New York City, JobsFirstNYC sees greater need for hands-on science engagement and earlier exposure to the science-sustainability connection – especially for people and communities underrepresented in good green careers. We are excited to work with BioBus to increase the STEM pipeline in the green economy," said JobsFirstNYC Vice President Keri Faulhaber.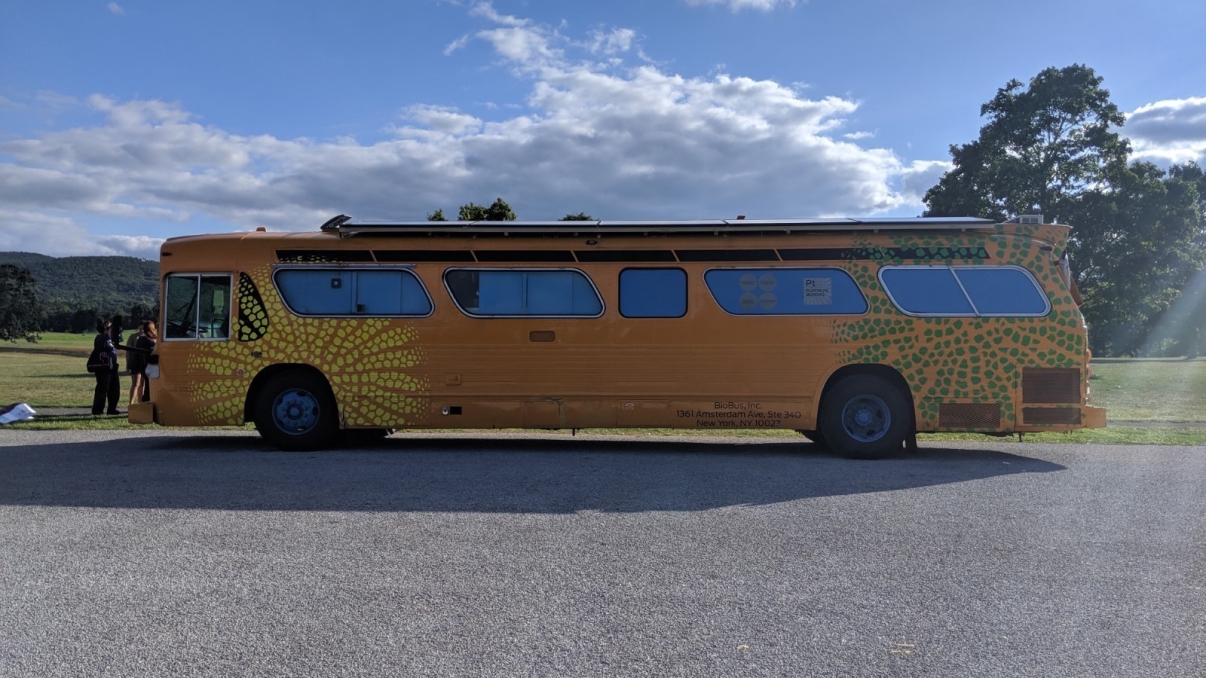 BioBus students participate in inquiry-based, hands-on, standards-aligned lab sessions, connect with scientists from diverse backgrounds, learn lab and research skills, practice science communication, and take steps to become the next generation of scientists and problem-solvers, making the world better for all of us.
Students discover the excitement of hands-on science during introductory 45-minute sessions on board a mobile lab at their school. Entire classes of pre-K through twelfth-grade students use research-grade microscopes, guided by BioBus Community Scientists, for a fascinating exploration of the world around them, looking at tiny bugs, worms, compost, microscopic organisms, invertebrates, and/or the various parts of a cell. During the session, students make observations and ask questions, develop hypotheses, and experience the joy of scientific discovery first-hand.
Students also have the option to explore BioBus programs after school, on the weekends, and during the summer where they are provided with the tools, and guidance for in-depth science exploration. 
High school and college students join or return to BioBus as Junior Scientist interns, then spend over 100 hours as paid interns completing their own science research and serving as mentors to younger students.
Skilled and diverse talent is key to supporting the life sciences industry in New York City, but a lack of exposure to STEM education can limit students' potential for pursuing careers in the life sciences later in life. All BioBus programs focus on students underrepresented in the scientific community due to factors such as race, gender, economic status, and physical access. 
Robust STEM education can close achievement gaps for those in underserved neighborhoods and mold a positive outlook toward science, but schools often lack the resources and facilities to deliver it. Research shows that students receiving such education will therefore be positioned to create a more inclusive and representative scientific workforce.
The programs are offered city-wide with a focus on Harlem, the South Bronx, and the Lower East Side. BioBus reached more than 50,000 students through short, introductory programs during the 2018-2019 school year, with hundreds of students engaging in in-depth programs and research internships. During the 2019-2020 school year, the program reached over 24,000 students both through in-person programs and online during the pandemic.
BioBus is also a long-time host company to the LifeSci NYC Internship Program, having hosted 30 LifeSci NYC interns since 2018. Both the Internship Program and this support for BioBus are part of the City's $1 billion initiative to create 40,000 jobs, unlock 10 million square feet of wet- and dry-lab real estate, and generate $82 billion in overall economic impact over the next 10-15 years, making New York City a global leader in life sciences.
About NYCEDC        
New York City Economic Development Corporation is a mission-driven, nonprofit organization that works for a vibrant, inclusive, and globally competitive economy for all New Yorkers. We take a comprehensive approach, through four main strategies: strengthen confidence in NYC as a great place to do business; grow innovative sectors with a focus on equity, build neighborhoods as places to live, learn, work, and play; and deliver sustainable infrastructure for communities and the city's future economy. To learn more about what we do, visit us on Facebook, Twitter, LinkedIn, and Instagram. 
About BioBus 
BioBus helps K-12 and college students in New York City discover, explore, and pursue science. We focus on students excluded from the scientific community due to factors such as race, gender, economic status, and physical access. Through this work, we envision a world where all people have the opportunity to reach their full scientific potential.