Press Release
NYCEDC Awards $800,000 to Cutting-Edge Biotechnology Company, Aanika Biosciences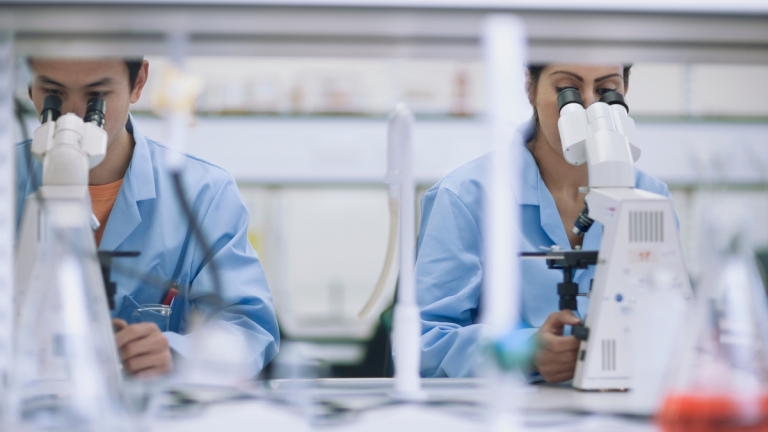 Aanika Biosciences Will Expand to a New Facility in Industry City, Establishing a Hub for Food Safety and Innovation 
The Funding is Part of the NYC Expansion Fund Which Supports Startup Companies as they Grow, by Reducing Barriers that Prevent them from Accessing Capital  
NEW YORK, NY—Today, New York City Economic Development Corporation (NYCEDC) announced an $800,000 investment in Aanika Biosciences Inc, a biotechnology company based in Sunset Park, New York as part of the LifeSci NYC Initiative. Founded in 2018, Aanika Biosciences develops microbial markers that can be applied to any product to track, trace, and authenticate products in supply chains to control liability and potential claims. The funding will allow Aanika to expand to a new 27,000 square foot facility in Industry City, establishing The Aanika Center for Food Safety and Innovation. This investment will help cement New York City's place as a global leader in sustainability-focused biotech and marks a continued commitment to supporting biotech innovation for climate and sustainability solutions. The investment also marks one of the first of its kind in the city's history as no other agriculture-tech seed stage incubator exists in the city. 
The LifeSci NYC Expansion Fund is supported by LifeSci NYC, a $1 billion initiative overseen by NYCEDC to create 40,000 jobs over the next 10 to 15 years. The funding opportunity is for life sciences companies interested in expanding their operations in one of New York City's five boroughs. The fund is designed to support high-growth ventures with upfront financing. 
"New York City is an engine of innovation and is continuing to pave the way to becoming a global leader in sustainability-focused biotech with investments like this," said NYCEDC Chief Strategy Officer Cecilia Kushner. "This game-changing industry will spark cutting-edge innovation to address the climate crisis and accelerate our transition to a brighter and more sustainable future. We are thrilled to continue supporting national and international companies, like Aanika Biosciences, to expand and grow throughout the five boroughs." 
"We're proud to contribute to the growing biotechnology industry in New York City, and excited to be based in a city with unparalleled diversity and opportunity. This funding will allow us to expand our workforce, continue to produce and develop our insurance-linked microbial tagging and tracing technology, and well as explore new areas of product development" said CEO of Aanika Biosciences Vishaal Bhuyan. 
The space will also feature highly specialized molecular biology equipment including laboratory space as well as a dedicated fermentation production facility bringing new food-tech capabilities to the city. The facility will also house an incubator for seed-stage-agriculture-tech-startups helping to support the growing cadre of food tech startups in New York City. 
With more than 100 research foundations and nine academic medical centers, New York City is home to one of the largest concentrations of academic life sciences research in the world. However, challenges such as the shortage of laboratory space have made it difficult to retain high-growth life science companies. Unlocking life sciences space and delivering good-paying jobs is part of Mayor Adams efforts to establish New York City as a global leader in life sciences research and innovation. The LifeSci Expansion Fund is one of several active funding initiatives for life sciences by NYCEDC. 
New York City is cementing itself as a global leader in Life Sciences. Through LifeSci NYC, a $1 billion initiative overseen by NYCEDC, NYC is on track to create 1,000 companies and 40,000 jobs, unlock 10 million square feet of wet- and dry-lab real estate and generate $82 billion in overall economic impact over the next 10 to 15 years, making New York City a global leader in life sciences. 
In March, Mayor Adams, NYCEDC and the Brooklyn Navy Yard announced that the city will open a first-in-the-nation $20 million center for sustainability-focused biotech in Building 303 at the Brooklyn Navy Yard in partnership with Newlab, the Partnership Fund for New York City, and Empire State Development. The 50,000-square-foot innovation space is expected to open in 2025 and advances Mayor Adams' efforts to make New York City the global center of sustainable technology by leveraging the city's growing life sciences and green economy industries.
Additionally, NYCEDC released a request for expressions of interest for an operator to open a new hub for materials science innovation focusing on early-stage companies. 
These investments also deliver on commitments made in Mayor Adams' "Rebuild, Renew, Reinvent: A Blueprint for New York City's Economic Recovery," where he highlighted the importance of life sciences and outlined an expansion into three new areas: 
Med-tech – developing new tools for medical diagnosis, monitoring and treatment;
Bioengineering – applying engineering principles to life sciences product development; and
Planetary health – using lab-based innovations to address climate change.
Construction of the new site is nearly underway, Aanika expects to move into the new facility by late 2023/early 2024. 
About NYCEDC   
New York City Economic Development Corporation is a mission-driven, nonprofit organization that works for a vibrant, inclusive, and globally competitive economy for all New Yorkers. We take a comprehensive approach, through four main strategies: strengthen confidence in NYC as a great place to do business; grow innovative sectors with a focus on equity, build neighborhoods as places to live, learn, work, and play; and deliver sustainable infrastructure for communities and the city's future economy. To learn more about what we do, visit us on Facebook, Twitter, LinkedIn, and Instagram.