A Day In the Life of a LifeSci NYC Intern: Husain Sodawalla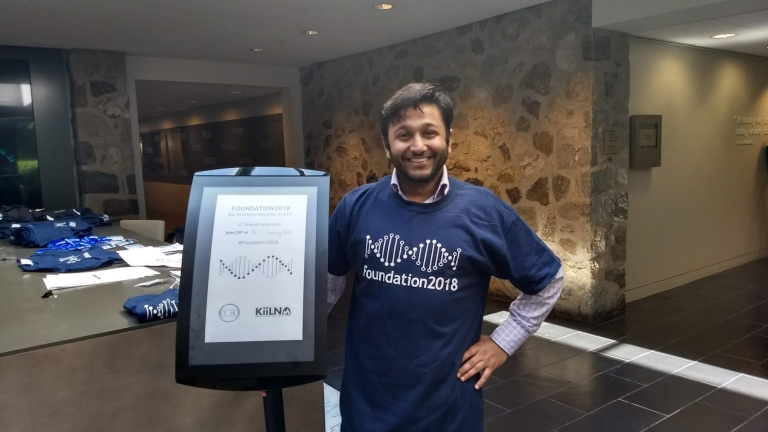 For the second in a series of posts from participants in this summer's LifeSci NYC Internship Program, we hear from Husain Sodawalla, who spent the summer at a nonprofit that supports biotech startups.
How I Incubated My Career with an Internship: The KiiLN Experience
by Husain Sodawalla
What is a person if not an aggregate of their experiences? I have had the joy and good fortune of learning at the feet of giants. My parents gave me my love for pharma, my teachers imbued me with scientific temper, and my alma mater in Udaipur, India gave me the tools to conduct research and contribute to science. Trained in biotechnology and looking to explore the magical world of neuroscience in a graduate setting, I flew westward and landed at Stony Brook University in New York, where I worked with animal models of spinal cord injury and Parkinson's disease.
At Stony Brook I regularly engaged with life science professionals at networking events to explore opportunities to apply my scientific training. At one such event, Anita Kishore from Upper West Strategies introduced me to the LifeSci NYC internship program. Through the program, I found a match for my career interests with Keystone for Incubating Innovation in Life Sciences Network (KiiLN), a nonprofit organization that accelerates fledgling startups' forays into the NYC biotech landscape. Talk about coincidence: my hiring manager has a neuroscience doctorate! KiiLN is a resident company of [email protected] and, as its accelerator partner, organizes informational events and creates educational materials by closely working with investors, management and strategy consultants, entrepreneurship foundations, and patent and legal experts who are part of its network for New York's entrepreneur-scientists. I am surrounded by people whose mission in life is to bring technologies from bench to bedside.
Working with KiiLN was an exhilarating experience! One of my main responsibilities was to drive the marketing effort at KiiLN by creating and sharing content on social media. Each week, I would attend two educational events and recognize key insights to start a discussion with our audience. If one wants to take the pulse of NYC's biotech landscape, they need only spend a day at our office, based in the co-working space at [email protected], or attend events hosted there. CEOs of the companies at [email protected], many of whom have previously served as academic scientists at prestigious institutions, speak passionately with guest speakers who are experts in commercial aspects of science. Every Friday, entrepreneurs congregate at [email protected] to discuss what lies ahead—in terms of funding, strategic moves, collaborations, and professional development. A technology incubator and accelerator acts as a catalyst to bring the science from top universities into fruition in no small part because people from different walks of life share their ideas freely.
I am extremely fortunate that I was close to NYC's biotech ecosystem as it saw a massive $100M investment through LifeSci NYC. Companies that are headquartered in Maryland, Massachusetts, Rhode Island, and other parts of the country have opened up their biotech ventures in NYC because the city facilitates a lot of cross-functional collaborations. My conversations with people from different parts of country have enriched my internship experience.
On June 29, KiiLN and ECHO held their annual event, Foundation2018, bringing together the who's who of NYC biotech, and I was given a chance to reimagine my love for science artistically. I designed a logo that presented multiple facets of science—DNA's double helix as a sine function with white and black circles. To a mathematician it might look like a periodic function; to a biomedical researcher the logo would look like minimalist DNA; an investor might see it as an oscillating stock price of a company's share. Indeed, people see science through the lens of their personal disposition—as a prospect for increasing their fortune, an avenue for service to society, or as the ever-strengthening bedrock of human civilization itself. I am grateful to the LifeSci NYC Internship program and the good people at KiiLN, as well as BioLabs, for the time and effort they invested in my professional development. The aggregate of my experiences is exponentially richer after working with them.